Visualize work with Kanban boards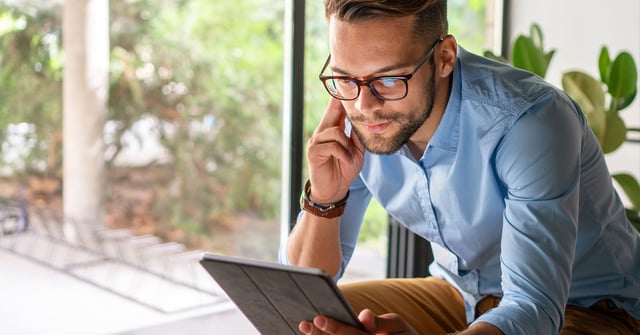 Understand how work flows and get more work done
Manage workloads better. Balance work across teams. Drive flow of work by limiting work-in-progress.
Get everyone working on the same page
Get a flow-oriented view of work.
Make it easy to spot and solve blockages and bottlenecks.
Create boards and cards in seconds.
Manage board members and permissions (view/edit).
Drag-and-drop board editing.
The business process engine can add/move/remove cards to relevant boards as part of the automated workflow, making automated processes visible.
See all your boards in one place. Filter and search.
Share boards with teams and individuals.
Manage work of different types: case workloads, requests, changes, projects, and more.
Follow boards that are relevant to you.
Comment/collaborate on tasks.
Benefits of Kanban
Limit work to improve flow
Remove the log-jams so work flows and backlogs shrink.
Make work management visual
Kanban boards give you a clear, process-oriented angle.
Be more responsive with work
Spot and resolve workload issues faster.
What you can do with Kanban boards
Manage all types of work visually with Hornbill Kanban Board Manager
Visual change management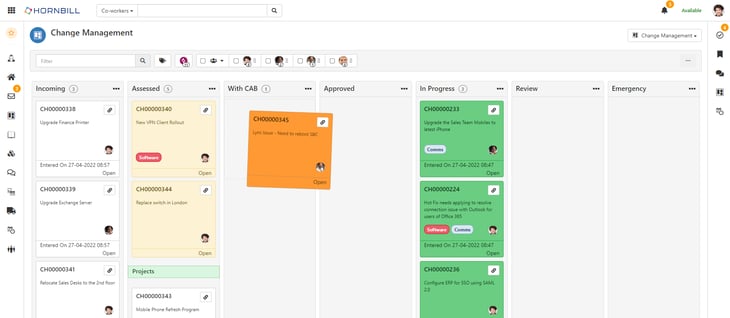 Get an instant view of planned changes and their status.
Manage changes as Kanban cards to accelerate CAB meetings.
Switch from monthly co-located meetings to weekly or daily online CAB meetings to accelerate pace of change.
Easy procurement tracking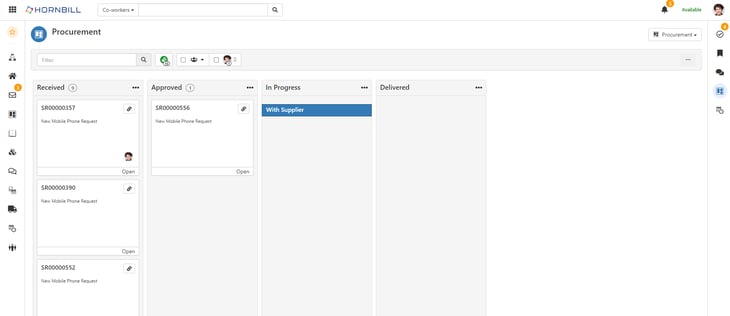 Get an instant view of procurements in flight.
Procurement board can be auto-populated by automated business workflows for full visibility over hands-free procurement processes.
Manage user stories digitally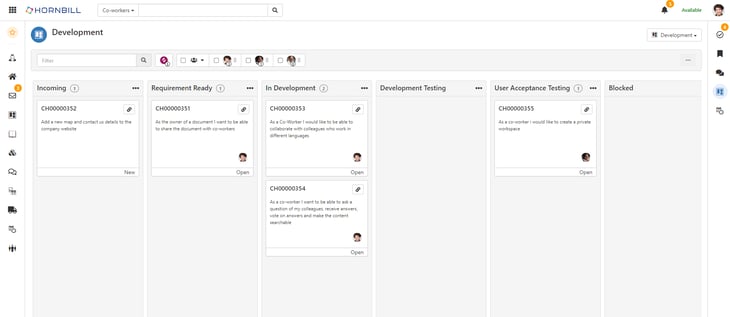 Centralize the flow of user stories to give distributed development teams clear visibility over work and assignments.
Create multiple boards to cover current sprint, next sprint, and backlogs for multiple product lines.
Manage team case queues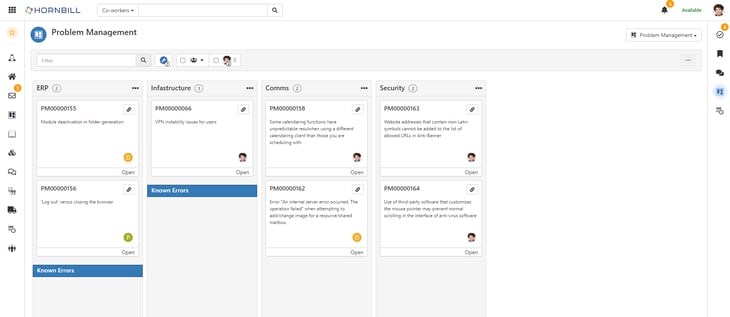 Empower all your teams to manage their caseloads visually: IT events, HR enquiries, Facilities requests, and more.
Manage incidents, problems, changes through their ITIL process lifecycles.
Our Hornbill journey…
I can honestly say I've never come across a system that is more modern, easy to use and intuitive...especially when it comes to designing you own forms and business processes."
★★★★★
More work management solutions
Find out more
Chat with a solutions expert today to see how Hornbill can help you work better and faster.
Just browsing?
No problem. Here's some useful resources to help you on your ESM journey.