Crush your work queues
End the firefighting in just 30 days with codeless service desk automation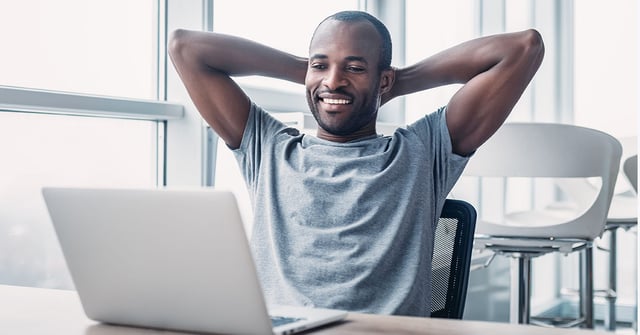 End the firefighting: Cut calls by 90% with a digital portal
Save time on the phone by giving customers an instant digital alternative for logging issues and requests. Turn your team's focus to solving the underlying problems that cause floods of calls. With Hornbill you can end the firefighting in just a few weeks.
Hornbill gives you the tools you need to kill your backlog
Make the leap from reactive to proactive service desk
Digital portal (web and mobile) deflects phone calls so your team can spend more time solving problems and delivering great service.
Automated customer updates eliminate status check-ins—further reducing inbound calls.
With 90% fewer calls, analysts have the time to work with specialist teams to resolve the causes of IT issues.
Simplified knowledge capture and sharing means analysts have instant access to the know-how they need to solve problems, faster.
With the backlog cleared, there's time for analysts to start automating service delivery processes with Hornbill's codeless workflow platform—creating a further reduction in operational workload.
With 90% of calls and 80% of routine workloads looked after by Hornbill's digital technology the service desk has bandwidth to engage with business stakeholders and pursue new applications of technology.
Digital transformation is the key to a modern service desk
Automated customer interaction
Hornbill's digital portal looks after customer interaction, from logging, to self-service knowledge, to ticket and service updates. All on web and mobile.
Automate service delivery
Use drag-and-drop workflows and codeless integrations to create automated service delivery processes that customers can trigger themselves.
Self-healing infrastructure
Connect infrastructure error conditions with automated resolution processes for real-time, hands-free fixes.
Why Hornbill…
We're saving thousands of hours each year by automating low-value interactions."
Safe path to success. Guided by experts.
Empower customers/employees with self-service
Quickly adapt out-of-the-box service definitions, incident categories, workflows, and how-to content to launch a web/mobile IT portal that diverts calls from the service desk.
Orchestrate processes quick, repeatable outcomes
Establish efficient, reliable, and predictable outcomes with rapid process modelling. Analysts can create workflows to guide service delivery, root cause analysis, and change processes in just a few minutes—making work faster and more repeatable.
Automate work for game-changing time savings
Simple, codeless integrations connectors empower service desk analysts to automate tasks almost as quickly as it takes to perform the task—permanently removing it from the service desk workload. Collectively, service desk automations can reduce the total workload by up to 80%—creating time for new IT projects.
Our Hornbill journey…
Hornbill has saved us time and effort with simplification and automation of processes."
More service desk solutions
Want to know more?
Find out how you can modernize your service desk in just 30 days. Talk to a solutions expert today.
Just browsing?
No problem. Here's some useful resources to help you on your ESM journey.