Collaboration
Collaborative service management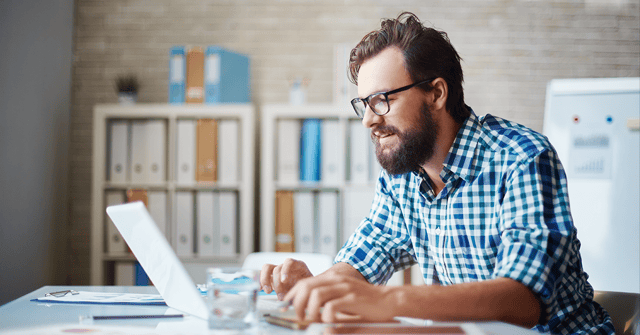 Hornbill is a system of engagement for service management
Create a collaborative environment. Elevate your service management from data and information to knowledge and wisdom. Hornbill offers collaboration and knowledge sharing across every aspect of service management
—
so people across your organization can come together to solve problems of every kind.
Benefits of Hornbill collaboration
Zero training adoption - Familiar user interface means better collaboration and knowledge capture begins on day one.
Break down siloes - Enable open collaboration between departments to solve problems faster.
Reduce email volumes - Take service management and support conversations out of your email system and into your service management platform where they belong: in context.
Enable real-time swarming - Spin-up collaboration sessions with experts across your organization in seconds, so you can solve business critical issues faster.
Native collaboration - Hornbill collaboration is part of the platform: not a bolt-on module.
What's unique about Hornbill collaboration?
Collaborative by design
Hornbill is the only service management platform with collaboration at its core. It's not a bolt-on module, it's a native part of the Hornbill service management platform.
Collaborate on anything
Everything is a social object. Cases, problems, projects, documents, assets, and more. They're all wrapped in social features, elevating Hornbill from system of record to system of engagement.
Boost your knowledge pool
Collaborative content is searchable, meaning you have a living pool of knowledge to draw from at any time to solve issues. Spend time solving novel problems, not wasting time reinventing the wheel.
Why Hornbill…
The ability to add colleagues as members to cases and chat to each other within the system have facilitated collaboration enormously."
★★★★★
What Hornbill collaboration does for you
Social features give you visibility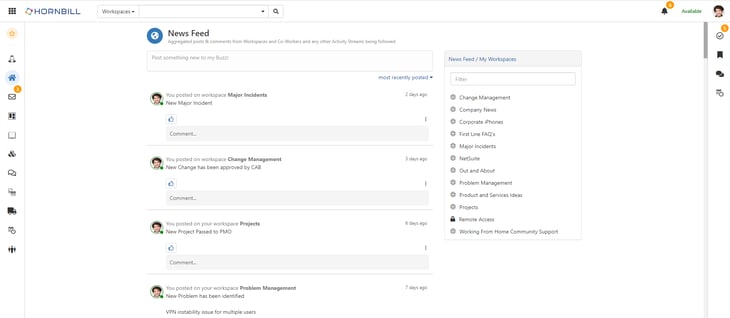 Stay up to date with the services, projects, people, assets, and other entities that are relevant to you.
Follow people/colleagues, projects, workspaces/groups, cases, documents, and more.
Simply "follow" what's important and you'll see relevant updates in your personal newsfeed. In real time.
Information comes to you. Stay informed without wasting time seeking information.
Collaboration captures how-to knowledge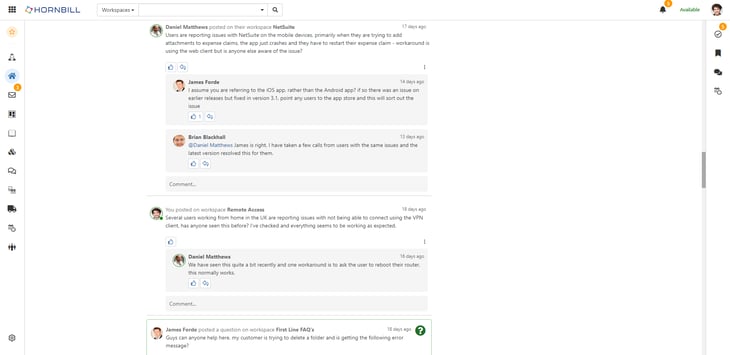 Digital collaboration captures knowledge transfer by default, giving you a large pool of organizational wisdom to draw from - without having to push people to write down what they know. It happens as part of day-to-day business. That means that solutions to more common problems can be easily found through a simple search. Spend less time solving routine problems...and more time on new challenges and projects.
Pull knowledge to solve problems faster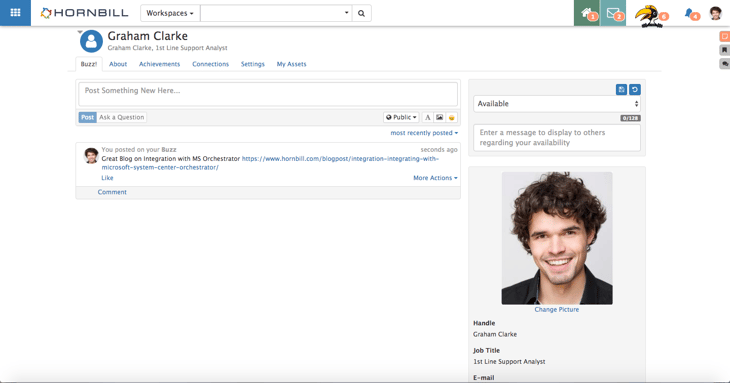 When you are facing a new type of problem, collaboration helps you get to the solution faster. Search Hornbill's user profiles to find the relevant subject matter experts, and then invite them into a collaboration conversation using a simple social "@" mention.
3 ways collaboration transforms service management
Stop searching for updates
When you follow people, projects, documents, cases, and other items that are relevant to you, you get automatic updates in your personal newsfeed.
Break down barriers
Hornbill's collaborative environment makes it easy for siloed teams to work together and share information—creating a more open, collaborative organization.
Capture and leverage knowledge, effortlessly
Digital collaboration makes the capture and re-use of knowledge simple. No more "forced" knowledge management initiatives. Ready-to-use knowledge is captured every day.
Just browsing?
No problem. Here's some useful resources to help you on your ESM journey.