INTEGRATION: Integrating with Microsoft Power BI
Although we provide powerful analytics, dashboards and reporting capabilities built into the Hornbill Platform, that capability only caters for reporting on data held within Hornbill. We know that customers often need to report across data sets from multiple systems which is where Business Intelligence tools come in.
Many of our customers have requested integration with Microsoft Power BI Data Visualisation Tool, it's a simple yet powerful tool that allows you to manipulate and visualize data sets, linking and cross-referencing multiple data sets, even data sets from different systems creating dashboards with drilldown capabilities. Microsoft has set a new benchmark in the BI space because not only is this tool powerful, there is a free edition and Pro subscriptions start at a mere $9.99/user/month which is not very expensive considering what you get for your money.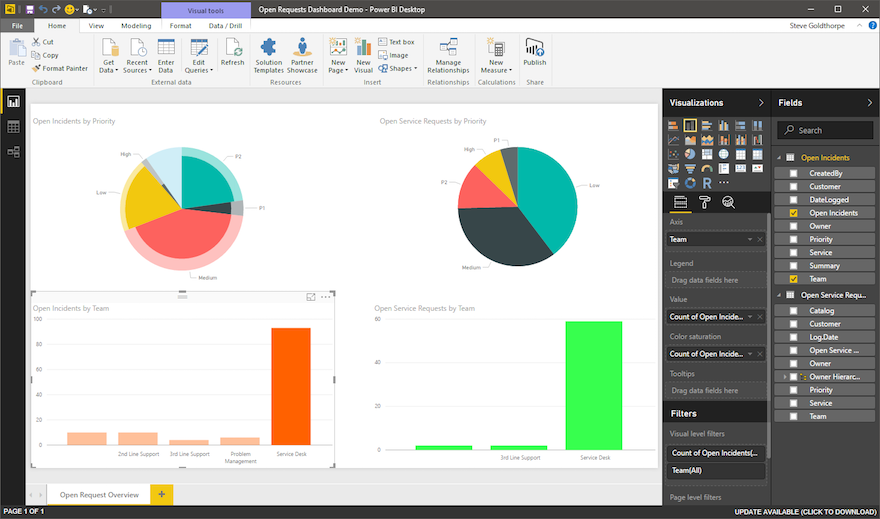 We have created an integration between Hornbills Analytics Engine and Power BI which is essentially a data source provider to Power BI. The integration its self is developed in "R" and we have made this available as an open source project under the Hornbill Community License (HCL), the integration is provided completely free of charge, and we can even help you set it up if you need us to. The integration can be downloaded from our GitHub here
You can find out more about this integration by watching the video attached to this post or by viewing our documentation here or searching our community forums
If you have suggestions for other integrations with Hornbill please let us know, we are on a mission to be the most well connected Service Management and Business Collaboration platform on the planet!