Hornbill Insights 2019 Recap
Last week we had the pleasure of hosting our customers at the annual Hornbill Insights event in London. Previously a one-day event, Hornbill Insights has gone from strength-to-strength, packed with incredible content. In 2019, we decided to extend Insights to two days, with a heavy focus on education, knowledge sharing and delivering greater value to delegates. Customer feedback was overwhelmingly positive, and we are already looking at how Insights 20 can be made bigger and better.
We kicked off the event with a Keynote from author and journalist, Jamie Bartlett, who explained the lessons that businesses can learn from the digital underworld of the Dark Net. His insightful, funny and eye-opening session was followed by a session from Hornbill's Founder and CEO Gerry Sweeney. Gerry provided a pragmatic overview on Artificial Intelligence (AI) and explained how customers could exploit Hornbill's new IT Operations Management (ITOM) capabilities to make business processes run faster, with more stability and fewer errors.

Hornbill's Pre-Sales Consultant, Steve Boardman followed up with look back at everything that Hornbill has delivered to customers during the 12 months since Insights 18. Highlights included delivery of 665 software updates, over 50 new features and over 50 new iBridge integration operations, all provided seamlessly through continuous deployment, which removes the need for upgrades. With over 14k posts since the last Insights event, the Hornbill Community is a vibrant and valuable resource where customers are keen to share knowledge and help each other.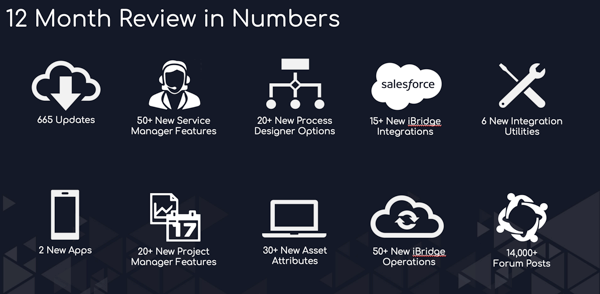 Steve continued with demos of the latest features that have been added to Hornbill Service Manager, Project Manager and iBridge; closing with an announcement of two new apps. Hornbill Supplier Manager provides new capabilities to manage suppliers, track contracts and review service level performance. Seamless integration with other Hornbill apps (Service Manager, Board Manager and Document Manager) and the collaborative features of the Hornbill Platform combine to deliver end-to-end supplier life-cycle management. Early access to Supplier Manager is available for customers through Hornbill's Customer Success teams, and general availability will be announced within a few months.

Hornbill also announced the forthcoming release of a new Governance Risk and Compliance Manager (GRC) app. As a provider of native-Cloud solutions, Hornbill's GRC processes are assessed and certified against rigorous standards, such as ISO 27001:2013 and ISO 27018. Originally built to help Hornbill manage these processes, the Hornbill GRC app will soon be released to enable our customers to manage their GRC policies, complete with policy statements, procedures and controls, and risk management, including an operational risk register. Hornbill's GRC app supports compliance management, with audits and audit scheduling, GRC-specific incident management and a governance dashboard.
After a hearty lunch, delegates were treated to fantastic presentations from two Hornbill customers. First up was Paul Neville, Director of ICT & Digital, London Borough of Waltham Forest, who explained how the council is leveraging the latest technology to provide residents and local businesses with seamless, intuitive digital experiences. Paul provided insights into their exciting transformation journey, explaining how Hornbill has been integrated with enterprise systems to digitally transform back office operations and deliver upon his vision of creating a council of the future.
Next up was Marc Littlefair, IT Service Manager, BTG Plc, who delivered an exceptional presentation on what his organization has achieved through automation. Marc immediately captured the attention of the audience, saying, "If you're swamped by work you shouldn't be doing, you're wasting time, effort and money, and you'll never have capacity to scale." He went on to explain that their joiner/leaver processes and account updates are 95-100% automated, saving thousands of hours on things that IT no longer needs to touch.
Day one was closed off with the Hornbill STARS awards, our annual celebration to recognise Hornbill Customers who have transformed service and delivered tangible value across multiple areas of their businesses. Congratulations to our worthy winners, who have truly embraced innovation and set an example that others can follow:
We would like to thank all of our customers for their STARS submissions and look forward to STARS returning at Insights 20.
Day two kicked off with education sessions and four master classes presented by Hornbill experts:
Service Catalog - An expert guide in designing and building a service catalog
Business Process Management - From planning and defining outcomes to constructing efficient business processes with hints and tips from a BPM master
Hornbill Integration - Two Hornbill integration experts provided a huge range of integration options with live practical examples that customers could take away and put to use immediately
IT Orchestration - This session extended on the ITOM message that Gerry had presented earlier, with a glimpse into the on-premise IT Orchestration capabilities that Hornbill has been working on.
Insights 19 closed with two round-table sessions. The first session, which looked at the top challenges facing IT Service Management in 2019, was led by Scarlett Bayes from SDI, one of our sponsors. The second session, called Meet the developers, gave customers the opportunity to ask questions, share insights and provide feedback to the teams who build and maintain our platform and applications.
Insights events are all about our customers. It's a fantastic opportunity to bring our community together to share ideas, knowledge and success stories. We were overwhelmed by the positive feedback and comments that Insights 19 was our best event ever. However, we won't rest on our laurels and are already planning a bigger and better event at Insights 20.