Hornbill Helps Enhance your Expression with Emoji and Giphy
We know how important it is for people to be able to communicate and share knowledge effectively while getting their work done. When employees are engaged, they communicate and share knowledge better and with more passion. We have always believed that the key to better run business is to encourage the communication between co-workers so when we saw the opportunity to enable people at work to be more expressive in their communications with their co-workers we decided to add a little spice to our platform.
First up, we have added Emoji support allowing you to use the same ideograms and smileys in your posts and comments as you can when using your favourite mobile and social applications. It is very common now to see these in use and there is no reason not to expand the expressiveness of textual content at work.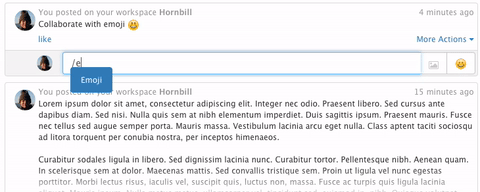 Next, we have plugged in Giphy support. If you have no idea what Giphy is, you have almost certainly seen it in action. It is basically an online database and search engine that uses Giphy Translate, the first-ever "text-to-GIF" translation service that allows users to search for phrases that get translated into a images that can be shared, so with a simple command as you are posting you can type /Giphy and find an appropriate animated GIF to include in your post or comment. It is fun to use and can make your communications feel far more expressive and human-like than just plain text and that is what engages people.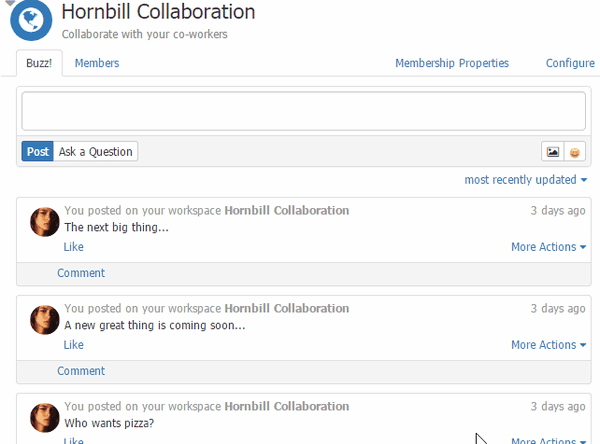 I know that some of our more traditional users, you know, the ones that say "Oh I don't like this Facebook-like interface…" are probably thinking this is just more useless gimmicky stuff I don't need. I will admit there is a gimmicky element to this kind of capability, and it can certainly be over used until the novelty wears off, but the truth is, images express and communicate emotion in a way that is impossible to achieve with text alone. Images cross cultural and language barriers in a way that plain text words are unable to, and images bring text content alive; so we think this is a great addition to our platform - give it a try and see what you think.
Finally, we have extended our slash vocabulary to allow you to easily refer to other workspaces, contacts and organisations which is very helpful when collaborating with your co-workers.

And of course, because our applications like Service Manager, Customer Manager, Timesheet Manager, Document Manager and others are all built on to of our Collaboration platform, these applications get these new enhancements too. I hope you enjoy using these features as much as we enjoyed creating them. These features will be available in our next update this week.