The Power of Advocacy: Hornbill unveiled as G2 Leader
2020 has been a year unlike any other. One which has seen the market wake up from years of comparative inertia to invest in and adopt new technology to enable the exponential shift to the remote economy and digital transformation.
Change is the new constant. This IS the new normal. At least for the foreseeable future.
It is little wonder therefore that leading analysts such as McKinsey signposted that Service Management was a critical investment for organisations to adapt successfully to the impact of the pandemic. The first half of 2020, the market saw increases of more than 400% in the volume of support requests, as most organisations hastily re-wrote their digital transformation strategies.
It is critical that the market is not constrained by legacy ITSM solutions, which are incapable of providing the flexibility and self-sufficiency organisations need, as they strive to implement their path out of COVID.
The pandemic has snapped the market out of its laconic three-year replacement cycle. Now more than ever the voice of the ITSM practitioner must be heard. 2020 has brought into question today's relevance of the previous purely analyst lead vendor reports.
At Hornbill we have the highest NPS score in the market, currently sitting at +80. It is something I am immensely proud of. Our customers are our business, if we partner with them and serve them well, we succeed. We owe a great debt of gratitude to our customers for allowing us to be an innovator, and allowing us to drive forwards, bringing them on that journey with us, and we could not be more proud to know that our customers are willing to help us tell the world about their successes with Hornbill.
In July we took the decision to bring the Hornbill story to the world. To showcase our brand through the eyes of our customers. To use their advocacy to position our brand.
Weeks later we now feature in more than 40 G2 Market reports, and are rated as Leaders in ITSM, Service Desk and a High Performer in Customer Self Service.
The latest G2 ITSM Grid Report, 'Fall 2020' combines the views of 2,900 IT Service Management Professionals to rank the Top 30 Vendors head to head.
Product Feature, Vendor Satisfaction and Market Presence separate the Niche, Contenders and High Performers from the Leaders.
The strength of our customer advocacy? Hornbill entered the G2 Grid as a High Performer and then sprinted through the quadrant in just 4 weeks to become a G2 Leader.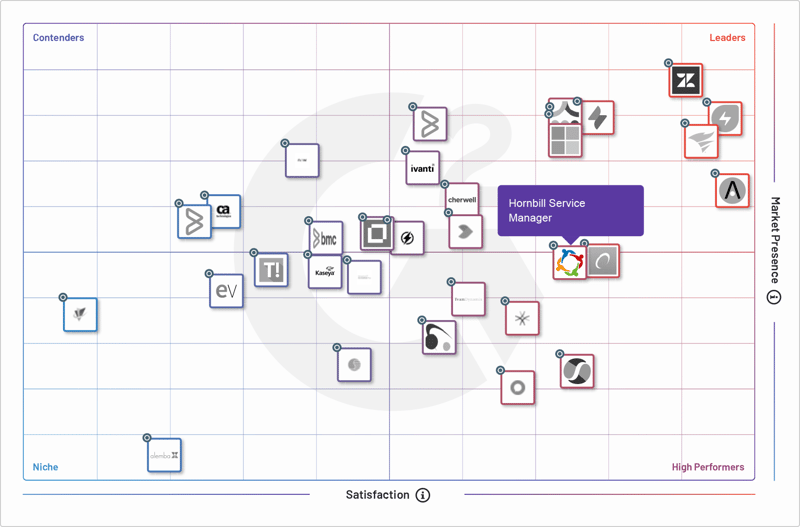 The revolution is here.

Welcome to Hornbill.
Gerry, CEO